Here:

http://www.mediafire.com/file/q8bhn0jiq

... rt.7z/file

Are Legend models/animations .pak and .dat if you want to directly check them + In the ESO folders the first files loads and are armor pieces and such, other files throw... yep, errors.

Apologize for the useless blabbing and thank you.

Edit: Another header that's commonly used is "29 DE 6C C0 BA A4 53 2B 25 F5 B7 A5 F6 66 E2 EE" and too is present into the model.pak, animations still got nothing... on a better "view" i noticed that the armor/weapons loaded do load the skeletons.
i looked at the bms script and data models.pak and managed to load some models manually by adding a header.
"29 DE 6C C0 BA A4 53 2B 25 F5 B7 A5 F6 66 E2 EE" and "B867 B0CA F86D B10F 8472" are both 32 bit litle endian magic for granny header,
but they are only part of the header, if someone can show me an example how to have the bms script write these bytes to each file extracted we can get it working.
as for a progress update:
ESO
- all files a loading, so no more crashing
, on the down side many of the meshes have corrupted UV , as i stated before my output is identical to that of granny viewer so its not my script, they must have made some custom changes to the file.
animation also seems to work, some files contain multiple animation - i only load the first one.
I was trying out your plugin on a WayForward game (Double Dragon Neon), and I get this error.
Double Dragon Neon
- this game is just built unprofessionally if you ask me
for example 1 file contained 46 animation , multiple textures and materials 123 models (multiple mesh for each model) and 3 skeletons, noesis cant handle so many apparently: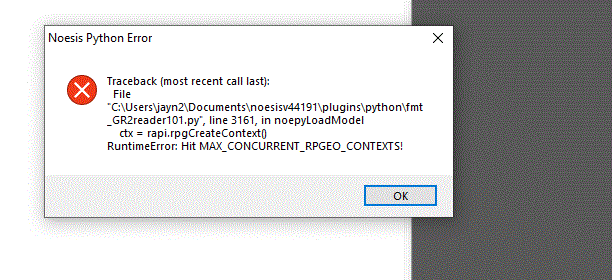 from the samples provided only 1 is loading the others just have to many models...
last game to tackle is Medal of Honor, then i am taking a break
ill upload new version once i do some testing make sure i didnt break other stuff that was working