TextureFinder 1.3.2
Designed to find textures inside any uncompressed files. Any size, any pixel bit format, any binary file. It only requires that the file be uncompressed. This tool is intended to be used by researchers and developers with a good understanding of bitmap formats.
VERSION 1.3.2 is the last one of this first series.
Formats implemented so far:
TRUE COLOUR (RGBA) FORMATS :
64bits 16x4
48bits 16x3
32bits 8888
24bits 888
16bits 565
15+1bits 1555
12+4bits 4444
08+8bits 8332
08bits 332
06+2bits 2222
PALETTE FORMATS :
P8 256 colours
P4 16 colours
P1 2 colours
QUAD FORMATS (alpha channel implemented only in series 2) :
DXT1
DXT3
DXT5
TextureFinder 2.1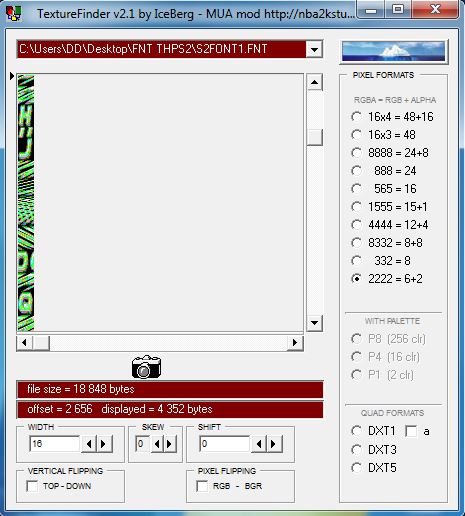 Newer and better version of TextureFinder.
Tile Molester 0.16
Tile Molester, or TM for short, is a program that facilitates the viewing and editing of raw graphics data; that is, graphics contained in arbitrary binary files, where one usually doesn't have initial knowledge about the location and/or format of the graphics. The main area of application thus far has been videogame console binaries. In most cases, these files contain a large variety of data, not just graphics -- sound data and actual game code are two examples. Collections of data in one and the same file may be interspersed in any conceivable fashion, subject to hardware/software-constraints of the intended runtime-environment as well as the decisions made by the producers of the binary (the developers).
TM is a kind of visual explorer of such files, in that it allows the file contents to be interpreted and displayed in a multitude of ways. By perusing the file and tweaking the settings of the renderer, the binary data that corresponds to graphics may be made accessible in the way they are intended, and edited to the satisfaction of the user.
TiledGGD 2.0.3.0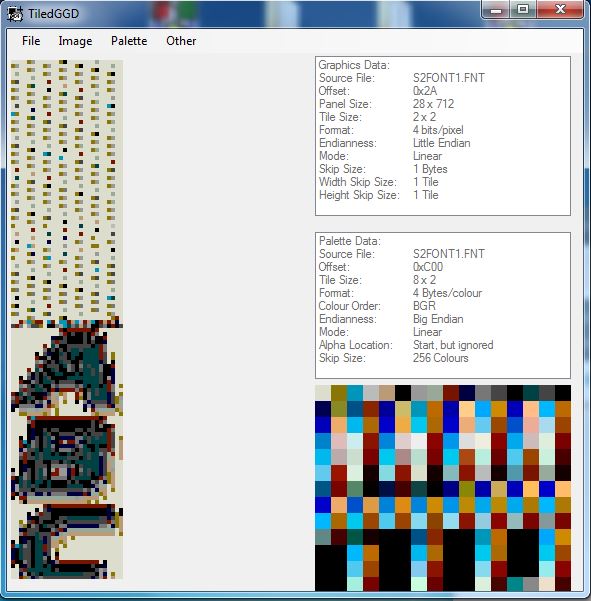 A generic graphics dumping tool, based on the elusive program GGD
TiledGGD - basically it's GGD (General Graphical Dump tool), with some extra features: Currently working (extra) features:
* Support for tiled graphics (tiles of any size) and palettes (tile sizes are restricted, because they need to fit a 16*16 grid) * Copy visible graphics and palette directly to clipboard * 'Go To Offset' functionality * Toggle Endianness of graphics and palette separately * Save the entire graphics * Built-in NCGR/NCBR and NCLR support (I'm not using all the data from the files, so there are most likely still some bugs) * Lua plugin support
DOWNLOAD TOOLS
If you know any other useful programs to search for graphics in files, you can share here.