I've followed all the steps in the Scarface audio support topic
viewtopic.php?t=2143&postdays=0&postorder=asc&start=15
I've managed to decode them to the point of a .rsd extension, but have no idea who to covert those files to a playable format, any format that can be played in windows media player, and uploaded to iTunes to transfer to iPod.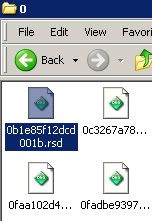 I've tried hard to find anything on .rsd, but I have had no luck.
Anything would help, thank you.