I surf by the net by years and i see lots of posts, something its trash another are usefull and of course anothers need be reconsiderated, becuase of this i try make this post only to show usefull information, please not request nothing or post nothing abouth other thinks, this its dedicated only to show how to rip models from pcsx2 emulator with 3d via and 3d ripper DX.
Experts on this like mariokart64, chrox, mr adults, nexxxus, obesebear, are welcome to post any idea, correction or released skill.
The first point its the best way to rip models from dvd of PS2 games its extraction directly from the dvd game, infortunatly the only man can do this its a frances boy with the nick of Yazor (Lord of Lords on this) he ripped Final Fantasy and Kingdom Hearts models from games, but he leave the forums long time ago.
Then the only way to the newebies like me its try with PCSX2 Emulator and 3D RIPER DX OR 3D VIA PRINT SCREEN.
I show how this works with screens and not only with letters cause latters something times are confused and one image tell more than 1000 words.
For this its necesary the next files
DVD ISO from the PS2 GAME
3D VIA PRINT SCREEN PROGRAM
3D RIPPER DX PROGRAM
3DS STUDIO MAX 9 (this works fine for me)
KoichiSenad max plugin
http://www.4shared.com/dir/5807782/1c39 ... enada.html
Speed PC (cause the emulator take lots of memory)
Also its important tell try this in Win Xp cause Vista use DirectX10 and thiw works only with DX9
When you have this open your emulator PCSX2 with 3D RIPPER DX FIRST AND choose this Plugins GSDX9 (texture dump) this plugin help to dump textures to the designed 3D Ripper DX folder, ZeroGS (model dump) this plugin dump the models to the designed 3D Ripper DX folder
(then 3dripper dx + gdx 1.7 for texture and gsplugin for mesh).
Here a configuration i use for this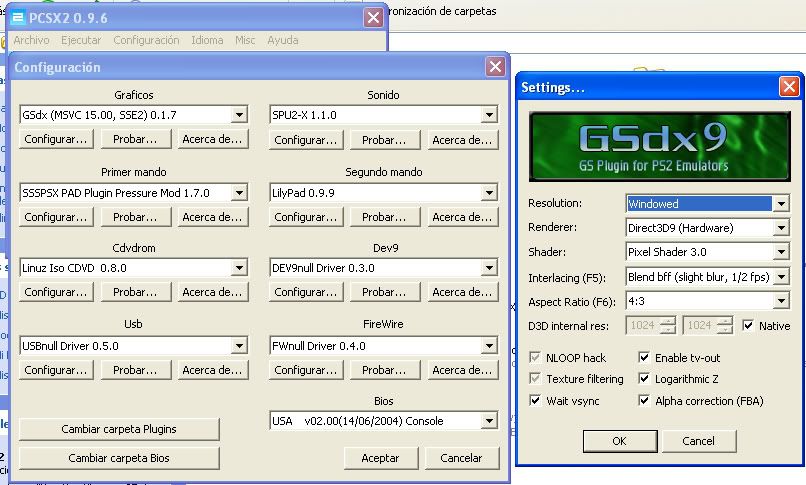 In normal Games all works fine and its posible load the model withouth troubles in max 9 with the 3d ripper dx plugin installed, but on this case with the emulator when you capture a model you can see this looks flated like this: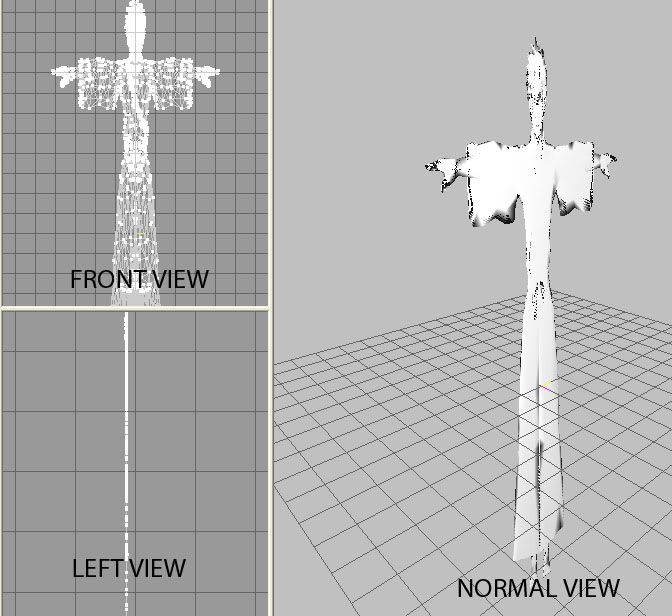 I not make a large explication how this hapen, but only can tell its because a overlay system of the emulators project only 2 sides like 2D not 3D, this save lot of memory cuase of this its configured.
For 3d ripper i found a model of Kosmos and the skill posted by sarha (another hiden) this:
you need to have 2 views of the exact same frame capture using 3d ripper dx.
the only way to do this is in the model viewer mode. take 1 capture straight on then take one side profile snapshot.--- she show this model released:
Bad for all she only talk abouth how this its posible, but in the practice something thinks changued, she never post screens step by step how this its posible and all the work are lost.
Years ago since 2008 something user post he have a max-script, this can convine this 2 views and fix the model, but i shure its fake, i search the plugin and also a death links and i not found nothing abouth this.
This its all with 3D ripper DX system i found usefull any correction please tell me.
The good news its 3DVIA Print Screen works bether.
Mariokart64 tell the captures with 3DVIA keep all the axis also the z axis, only its necesary
scale the Y axis by 20 000 000 x and the mesh should unfold.the problem is some models back cull, but back culling can be fixed only delething the back culling faces and reasing the textures.
On this mariokart64 explain why the Y axis need be scaled, cause the y axis control the depth of the models captured, personaly i see its posible scale the Y axis in 3ds max but i not tested yet cause i not ripped a model too.
x=Side-to-Side
y=Front-to-Back
z=Up-to-Down
on this proces its necesary install first the KoichiSenada plugin for max, and asign the keys to load the plugin, this to load the files generated by 3dvia print screen.
I test this and its this all i be done its a .png file: you can see to the left of the pick wath i am extracted. So maybe its a configuration issue i test all the posible configurations i can found tonight and post wath hapend tomorrow