Search found 6 matches
Search found 6 matches • Page 1 of 1
by Coverop

Fri Apr 29, 2016 8:14 pm
Forum: 3D/2D models
Topic: Warframe Online MaxScript
Replies: 100
Views: 26854
zaramot wrote:Older scripts shouldn't work, try this one instead (with recent game client)
Thanks for reply... but the script is still not working. I've tried both and both gives me the same error :/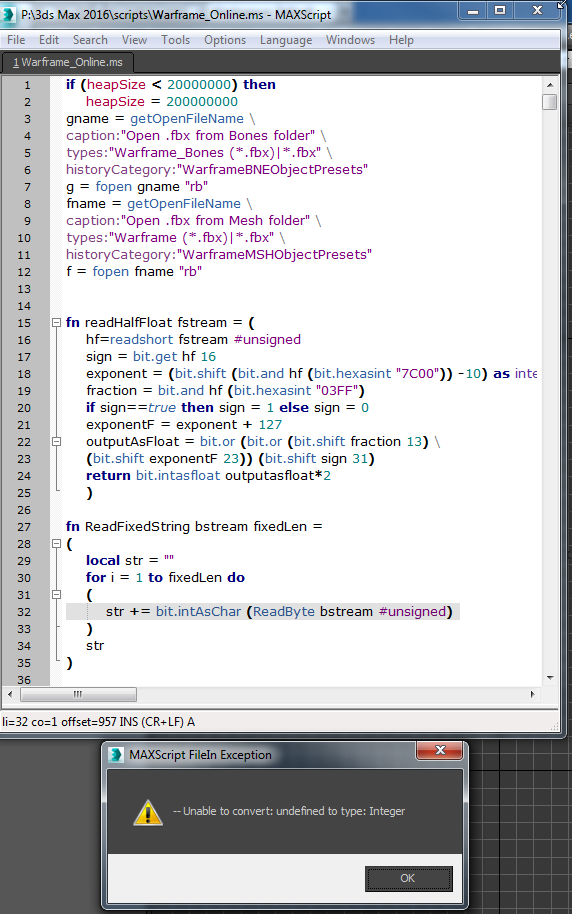 by Coverop

Sat Apr 16, 2016 2:44 am
Forum: 3D/2D models
Topic: Warframe Online MaxScript
Replies: 100
Views: 26854
Hello. Thank you for creating this script... but unfortunately It is not working for me. I'm using 3DSmax2012 and 3DSmax2016. (I've followed the instruction one of the users provided) http://u.cubeupload.com/Coverop/3dsmax20160416034157.png I'm not sure where is the mistake... on my side or on the s...
by Coverop

Sat Apr 16, 2016 2:12 am
Forum: Game specific tools
Replies: 76
Views: 38795
Hello. I come with a problem. I've decided to extract and convert the audio files of Warframe, but Form1 gives me a headache. See the end of this message for details on invoking just-in-time (JIT) debugging instead of this dialog box. ************** Exception Text ************** System.ArgumentExcep...
by Coverop

Sat Dec 12, 2015 5:34 pm
Forum: Game Archive
Replies: 1632
Views: 343515
Does anyone have a program to extract .FSM file format?
I believe that's where the sounds/vo is stored.
by Coverop

Tue Mar 10, 2015 2:52 pm
Forum: Game specific tools
Replies: 76
Views: 38795
Okay so I extracted files, sounds and music but I can't open them. It says "Cannot Render The File". So I decided to import to Audacity but it says this. http://i.gyazo.com/1b0bd3dd856740bb38e66707812c2436.png Does anyone know how to compile/open a sound/music from Evolution Engine? It would greatly...
Search found 6 matches • Page 1 of 1