MrAdults wrote:
ssringo wrote:
Question about Tekken 7 support in noesis. It was mentioned over on Gildor's umodel forums that noesis supports the game and doesn't have the issue with mismatched skeletons and meshes (they aren't scaled the same so the skeleton doesn't line up with the mesh). However, I can't get any meshes to load or export in noesis (textures work fine). When loading a character mesh noesis hangs and eats up RAM until it hits 4GB and then crashes with the out of memory error (that scolds me for doing so!!). I have more than enough RAM
I've extracted the pak files with noesis, umodel and using aluigi's quickbms script for extracting pak files. Same result. Loading a uasset file crashes noesis. I've also ran noesis with the cmd line argument -ue4gamehack 1 and -ue4gamehack through the cmd prompt as well as setting the argument in the shortcut for the program. I am using the latest version of noesis as well (4278).
Am I missing something in the process? Thank you for any insight into this.
Yeah, wrong place. Those commands go here. When you export, you should also provide them as-needed in the "Advanced options" field. They would only go on the actual application commandline when using ?cmode to export via commandline.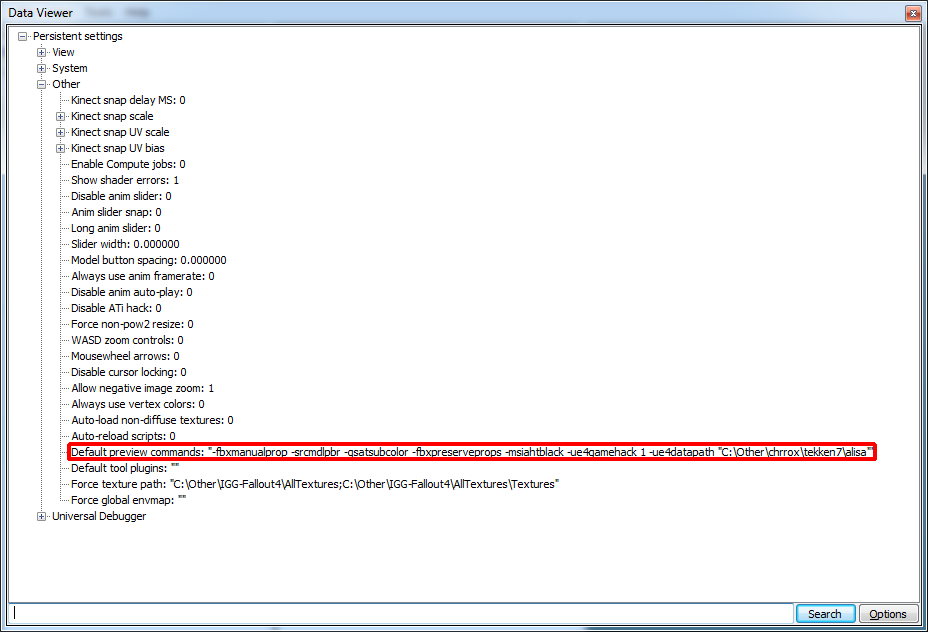 Figured it out, for those also curious Open Noesis and click on "Tools > Data Viewer" from there open "Persistent Settings > Other" and change the "default preview Commands to this
-fbxmanualprop -scrmdlpbr -qsatsubcolor -fbxpreserveprops -msiahtblack -ue4gamehack 1 -ue4datapath "Change this to where your uasset files are located"
Copy and paste that and make the change and you'll be able to extract tekken 7 models ^^
EDIT: Jesus second time on this site I've been left to figure out the answer on my own, I re-read through this page and the answer was thanks to the original poster lol when you go to export type in the Advanced options "-ue4gamehack 1" and it'll export fine. In regards to tekken the only thing left to do at this point is recolor those textures using the M map as a guide hope this helps at least one person besides myself