The image data has some compression I'm not aware of
I just got two PMs asking about it- download TextureFinder (find it on web or here);
Open the image, set it to DXT5, set width to 256 and offset to 163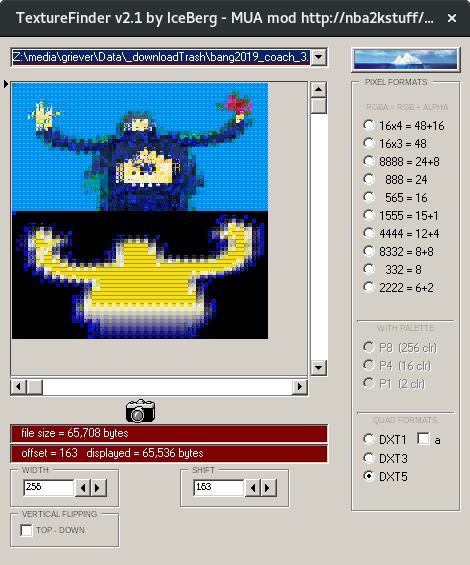 Offset is wrong, but it's the closest image data I can get. There are several headers hidden inside:
Code:
TEX
SDD
TTVN
AAPMC
none of those magic's are known
Real image data offset is actually 172 (from hex data)
I'm sorry I can't help more, there's some different image compression I don't know.
I could take a look at Dolphin simulator source code...
https://github.com/dolphin-emu/dolphin/ ... eneric.cpp
Code:
case TextureFormat::CMPR: // speed critical
// The metroid games use this format almost exclusively.
{
for (int y = 0; y < height; y += 8)
{
for (int x = 0; x < width; x += 8)
{
DecodeDXTBlock((u32*)dst + y * width + x, (DXTBlock*)src, width);
src += sizeof(DXTBlock);
DecodeDXTBlock((u32*)dst + y * width + x + 4, (DXTBlock*)src, width);
src += sizeof(DXTBlock);
DecodeDXTBlock((u32*)dst + (y + 4) * width + x, (DXTBlock*)src, width);
src += sizeof(DXTBlock);
DecodeDXTBlock((u32*)dst + (y + 4) * width + x + 4, (DXTBlock*)src, width);
src += sizeof(DXTBlock);
}
}
break;
}