merlinsvk wrote:
Quote:
Maybe we have to respect some bytes alignment when we extend/shorten strings.
Yes, exactly. That's padding. When I added one NULL byte after my test string, all missing text was back.
But that means, you will need proper tool to recalculate all paddings and lengths. Or it will be nightmare to do it all manually.
Indeed it works as I supposed.
When I manually "pad" them (thanks for the term, didn't know how to call it
) I can safely change strings length, as explained in the picture below.
E.g.: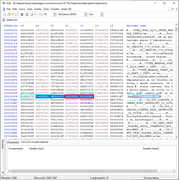 I can extend/shrink the text in the cyan rectangle (even colliding the red rectangle) but then I must always add this padding at the end: 0x00000000 80000000 respecting 4bytes+4bytes and, in case, adjusting with null bytes the string length.
Yep, would be great if your script would automagically do:
- recalculate final block length (written in reverse order into the bin)
- add padding correction
- recalculate strings length (the byte before the string itself)
EDIT: there is also the padding variant 0x00000001 80000000 used after dialogue strings...