Quick update.
I was browsing STGEVTP.BIN in a hex editor when I came across this at the beginning.
outmap.bin? Well, there's no such file in plain sight when looking at the files on the disc. Could this be maps or...?
On another part of the file, I discover this...
There are also .bin files like these, it seems. There are sorted in order; t01.bin to t13.bin, not to mention there are "d" versions of these files as well. I can certainly come to the conclusion "t" stands for "town" while "d" stands for dungeon. There are also "e" variations, which I assume are "event" maps.
EDIT:
A while back, I found some textures inside BTLODT.BIN. I recently viewed it in a hex editor to reveal some formats as seen in the following image.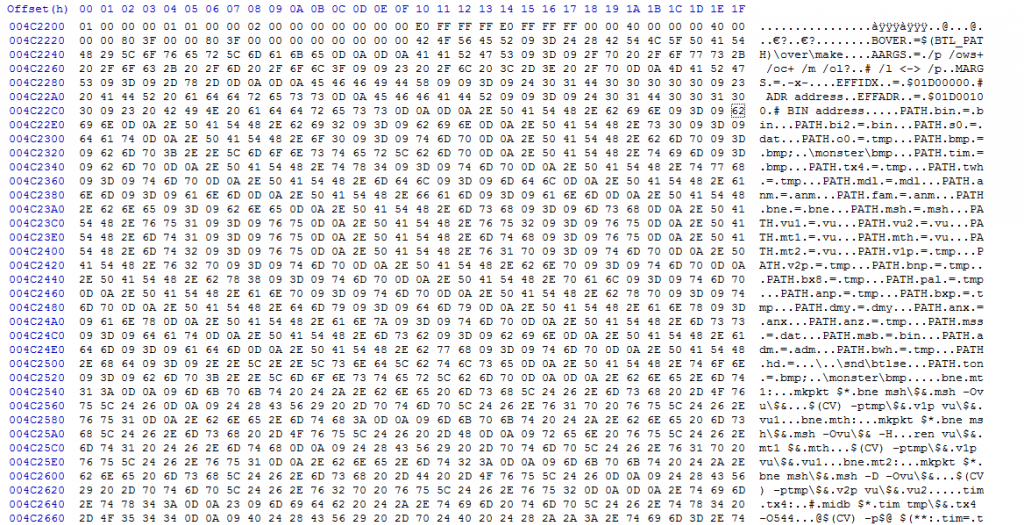 As far as I know, the extensions seen in the file are easily recognizable. I assume "vu" refers to the UV coordinates used on the textures I discovered using TextureFinder. Bone files can be seen here, along with the .mdl format and .msh, I can say must be mesh. Aside from the that, texture files are housed here, most notably .tim format.
ANOTHER EDIT:
Again, I found some more stuff inside STGEVTD.BIN. It seems to be made up of dialogue with certain numbers standing for names...
A brief example showing an in-game line of Janus, whose number is 072.
NOTICE: To anyone who would like to help with unpacking archives, let me know you are interested and I will gladly send sample files your way.
EDIT.... again...:
I can definitely say there are a ton of files for use with models of enemies inside BTLODT.BIN. The problem is writing a script to extract the files. Is there anyone who can help if I send the sample file?